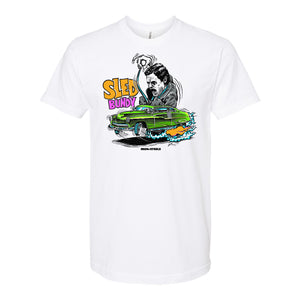 Iron and Steele Lowbrow Series - "SLED BUNDY" White T-Shirt
Sale price Price $15.00 Regular price
Iron and Steele presents:
The Third in a series of three "lowbrow" serial killer themed, Roth-inspired art. Drawn by none other than Evan Daines. 
Perfect for job interviews, first dates, religious gatherings of all kinds, and anywhere you'd like to make a great impression.
Incredible, vibrant colors and screen printed by hand in the USA on a 100% ring-spun cotton T shirt.