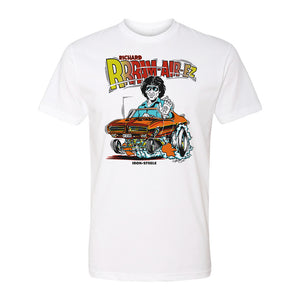 Iron and Steele Lowbrow Series - "RICHARD RAM-AIR-EZ" White T-Shirt
Sale price Price $15.00 Regular price
Iron and Steele presents:
The second in a series of three "lowbrow" serial killer themed, Roth-inspired art. Drawn by mega-talent, Evan Daines. "Richard Ram-Air-Ez" is perfect for the weirdo hot rodder/true crime enthusiast.
Looking for something new and fancy to wear to church? This ain't it!
Incredible, vibrant colors and screen printed by hand in the USA on a 100% ring-spun cotton T shirt.